Welcome to Allison-McCloskey Escrow Company!
Thank you for visiting Allison-McCloskey Escrow Company, a well trusted source for all your escrow needs. Since 1946, we have served as the middlemen for thousands of different escrows. We assist all parties coordinate every aspect of the escrow, our agents are detail oriented and committed to meeting your time sensitive deadlines. From top to bottom, we are made up of escrow specialists who will provide all involved parties unbiased assistance.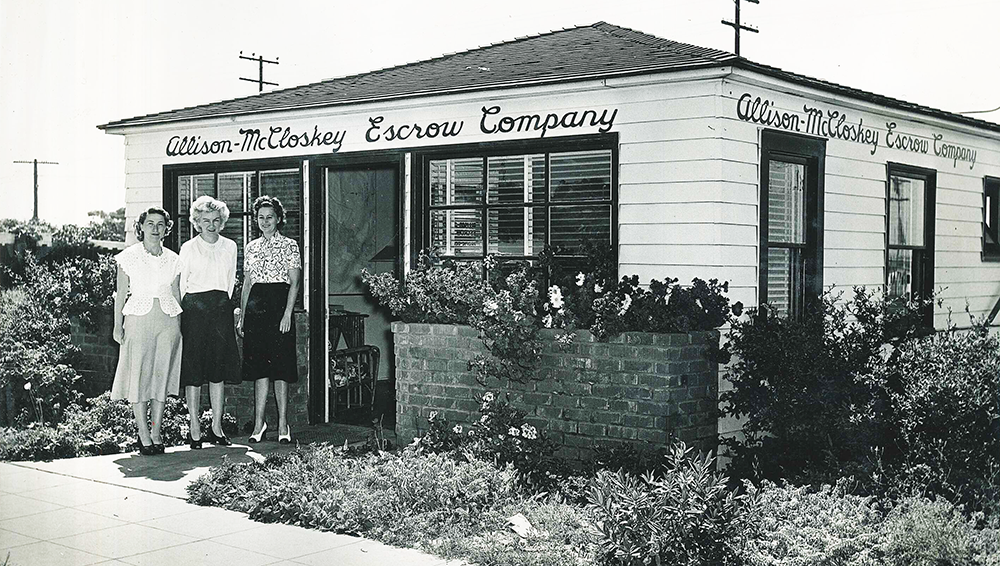 About Our President
Bill McCloskey is the acting President of Allison-McCloskey Escrow Company for 43-years. Before serving as president, Bill's father owned and operated Allison-McCloskey Escrow Company. As a young man, Bill spent much of his time in our offices, observing the day to day operations of an escrow agent. Once in high school, Bill began working with the company through a high school work experience program. By 1972, Bill was working full time as an escrow specialist.
When Bill is not busy operating a successful Escrow Company, you will find him hanging out with his family and dogs. His other interests include the San Diego Chargers and traveling to various location. He especially enjoys working with such a great staff.
About Our Accreditations
We are a BBB Accredited business that works with our clients to reach a solution. In addition, we are also certified to assist you with your §1031 Tax Deferred Exchange. Bottom line, our escrow agents are more than qualified to execute every stage of your escrow process. Get started with your escrow today by contacting Allison-McCloskey Escrow Company, we would love to explore your options with you. We look forward to serving you!
About Our Talented Team
Allison-McCloskey Escrow Company makes it a point to only hire the most personable, talented escrow agents in the industry. While skill and experience are equally important, we are equally interested in finding escrow specialists that know how to connect with their clientele. We believe in the value of personalized customer relations, that should be evident through our diverse range of escrow services.
Alicia Ramirez
Title: Company Co-Manager, San Diego Branch Co-Manager, and Escrow Officer
Years of Experience: 28 Years
Specializing in: Commercial, Residential, Refinance, Straight or Installment Notes and Deeds, Seller Carry Back, Assignments, and concurrent closings
Languages: Spanish and English
Email: alicia@amecsd.com
Julie Halferty
Title: Company Co-Manager, San Diego Branch Co-Manager, and Escrow Officer
Years of Experience: 22 Years
Specializing in: Commercial, Residential, Refinance, Straight or Installment Notes and Deeds, Seller Carry Back, Assignments, and concurrent closings
Languages: English
Email: Julie@amecsd.com
Patty Calles
Title: 1031 Exchange and Escrow Officer
Years of Experience: 25 Years
Specializing in: Forward and Build-to Suite 1031 Exchange Accommodation, Residential, and Refinance Escrows
Languages: Spanish and English
Email: pcalles@amecsd.com
Rita Lister
Title: Escrow Officer
Years of Experience: 28 Years
Specializing in: Surrogacy Escrows, and Egg Donation Escrows, Holding Escrow to include the following: Stock Sales, Membership Interest Sales, Asset Sales, Disputes, Performance Escrows, Hangar Escrows, Holdback Escrows, Vessel Escrows, and Automobile Escrows,
Languages: English
Email: rita@amecsd.com
Rosella Langdon
Title: Escrow Officer
Years of Experience: 20 Years
Assisting in: Holding Escrows, Surrogacy Escrows, and Egg Donation Escrows
Languages: Spanish and English
Email: rosella@amecsd.com
Christina Ferguson
Title: Escrow Assistant
Years of Experience: 6 Years
Assisting in: Holding Escrows, Surrogacy Escrows, and Egg Donation Escrows
Languages: English
Email: christina@amecsd.com
Holly A. Paden
Title: Escrow Officer
Years of Experience: 30+ Years
Specializing in: Commercial, Residential, Refinance, Note Sales, Manufactured Housing and Settlement Agreement Transactions
Languages: English
Email: holly@amecsd.com
Claudia Garcia
Title: Escrow Officer
Years of Experience: 25 Years
Specializing in: Commercial, Residential, Refinance, Concurrent Exchange, Bulk Sales, and ABC License Transfers
Languages: Spanish and English
Email: claudia@amecsd.com
Kim Tran
Title: Escrow Assistant
Years of Experience: 15 Years
Assisting in: Holding, Commercial, Residential, Refinance, Concurrent Exchange, Bulk Sales, ABC License Transfers, and 1031 Exchange
Languages: Vietnamese and English
Email: kim@amecsd.com
Elida Calles
Title: Escrow and Office Assistant
Years of Experience: 1.5
Assisting in: 1031 Exchange, Residential, and Refinance
Languages: English
Email: Escrow1@amecsd.com
Maricruz Reyes
Title: Pacific Beach Branch Manager, Escrow Officer
Years of Experience: 33
Specializing in: Commercial, Residential, Refinance, Hard Money Loans, FSBO, Seller Carry Backs, and Settlement Escrows
Languages: Spanish and English
Email: maricruz@amecpb.com
Monique Spears
Title: Escrow Officer
Years of Experience: 20 Years
Specializing in: Commercial, Residential, Refinance, Hard Money Loans, FSBO, Seller Carry Backs, Concurrent Escrows, and New Subdivisions or New Construction Escrows
Languages: English
Email: monique@amecpb.com
Allison-McCloskey Escrow Company are Members of the following organizations: